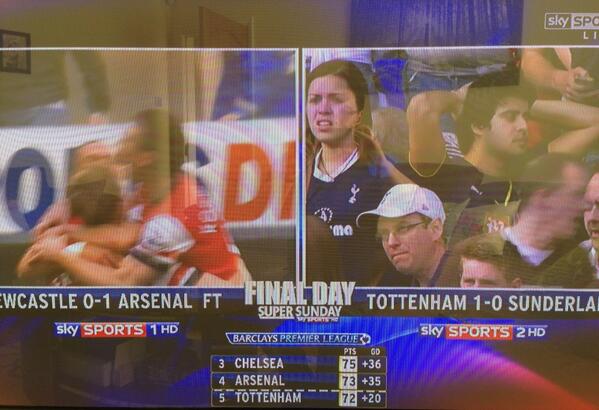 Well, what a finish to the season.
We ended the 2012-2013 campaign with 8 wins and 2 draws from our last 10 games to clinch 4th position in the Premier League and the much coveted Champions League qualification spot. Need I remind you that before those 10 games, we had just lost to Tottenham Hotspur at White Hart Lane and were 7 points adrift of our North London rivals.
Andre Villas Boas famously quoted at the time:
"We are on an upward spiral in terms of confidence and they are on a negative spiral in terms of results. To get out of that negative spiral is extremely difficult."
So even by AVB's standards, we must have done "extremely well" to get out of this "negative spiral".
All joking aside, the run in the final third of the season was outstanding. Arsene likes to talk about mental strength and we needed that with our run in. Knowing that any mistake would prove costly in our chances of finishing in the Top Four, there was no margin for error and so it proved on the last day – for our great run of results, we still only just finished a single point above Tottenham.
But as the old cliche goes, you deserve where you end up after a 38-game season and I don't care if Tottenham were "fourth for most of the season", they didn't finish there did they?
In terms of the season review, I've simply divided it into two sections; positives and negatives:
Positives:
Our end of season form.
In the last 10 games of the Premier League season, our results were:
2-0, 4-1, 2-1, 3-1, 0-0, 1-0, 1-1, 1-0, 4-1 and 1-0.
8 wins, 2 draws and 0 defeats.
Unless I'n mistaken, that 10 game run is the best form any team has shown in the league. And I'm sure you've seen the Tweets saying that if the season was based on 2nd halves, then we'd be top of the league.
Now obviously that's not how football works but there are positive signs there. The big turning point in the season was the win at Bayern Munich. Nobody gave us a chance but we put in a performance full of fight and desire and against the odds and won 2-0. We were only 1 goal away from making history and knocking out this seasons finalists.
Since that game, our way of playing has changed and our results have dramatically improved. Defensively, we are much more solid, and Koscielny in particular has been phenomenal. I struggle to come up with more superlatives for him – he has been immense. And the final game of the season summed him up this year – strong, determined, focused and powerful. He has come on so much and has probably been our player of the season for me.
Our mentality has changed and as the results and performances has shown, we are more focused defensively. In that run we've kept 5 clean sheets, and not conceded more than a single goal in any of those games – which for an Arsene side is hugely impressive. We have sacrificed our expansive attacking play to ensure that we are solid and don't lose games, instead of going all out to win them. Our new style, if it continues, bodes well for next season.
If we add some attacking flair and a finisher to the mix, we could really have a great go at the league next season. Yes, that statement is partly due to blind love for Arsenal but one of my biggest concerns was our defensive lapses and being too open but now that seems to have been addressed. We know Arsene can get the balance right and add a bit more ruthlessness up front, we can get another big run going and start climbing the table.
At the end of the day, we finished 5 points behind Manchester City and their billions of pounds, and 2 points off Chelsea, who have real depth and strength in their squad. So in that sense, we've over achieved.
Negatives:
Our problem with the Premier League in years gone by has been our inability to beat the lesser sides in the league. Cold away days at Stoke or travelling up to Newcastle proved to be problematic for us but this season, it has changed and we struggled to beat the Top 6 sides this year. Usually, playing a "bigger" side has worked in our favour as those teams would typically play a less defensive style of football and that would give us more chances to hurt them throughout the 90 minutes. But this year we only beat Tottenham at home and Liverpool away and failed to win any of the other big contests.
Is the problem mentality? Or is it that our squad isn't good enough to stand toe-to-toe with the big teams? Whatever it is, that has to improve next season. With some more positive results in the Top 6, we could have been even higher in the table.
Another negative we've had this season is our games in the cup competitions. We lost to Championship side Blackburn Rovers in the 5th round of the FA Cup, and Bradford City in the Capital One Cup. By anyone's standards, that is nowhere good enough and needs to be addressed. Of course, Arsene might just not think the cup's have any real value or not believe they are as important as securing a Top Four finish.
And in a sense, I suppose he's right – with the resources at his disposal, we managed to (just) secure 4th spot. Would we be happier with the Capital One Cup and finishing 5th?
Overall:
The big question, as when every season ends, is can Arsene improve in the next campaign and break into the Top 2? For the first 8 years we were always 1st or 2nd, and since then we've been 3rd or 4th. Next year will be tough with Chelsea and Mourinho, Manchester United still strong and Manchester City fighting to win their title back, but we have the chance to be right in there if we're smart in the summer in regards to transfers. There are a few players in the squad who are nowhere good enough and we need to start with offloading them and bringing in some real quality.
For me, there is real optimism for next season.
The well-reported sponsorship deals have apparently given Arsene and Arsenal a "war chest" (yes, we've heard this before) and all the noises coming from Arsenal are that we will be fighting for the title next season. Call it blind faith, but I think we can compete.
We all know about the financial constraints we've been working with over the last 7/8 seasons and you just feel that our time is now. We've managed to stay in the Top 4, and whatever you say Arsenal is still an attractive club to join. We have a side which knows how to defend for the first time in a good while (since we last won something) and that is a great basis to build on. The loss of Alex Song and RVP was painful at the time but you cannot deny that by hook or by crook, Arsene has still managed to pull it off. I thought losing Song was almost as bad as losing Van Persie but with Arteta, Ramsey and either Wilshere, Rosicky or Diaby in the side we look more solid. Sure, we may not be as free flowing up front but at true title-challenging team wins games 1-0 and 2-1. At times we've played some ugly football but we've got the results.
The reason for my optimism is because defending and keeping out goals is something we have always struggled with. How many times have we moaned about giving away a stupid goal? That (for now) has been eradicated from the game. And with Arsene, you know it's much easier to fix the problems in the attacking part of the pitch than the defensive side. But now we have finally cracked that nut, we have reason to feel optimistic.
Our early season form was all over the place but in our last 10 games we were by far the best performing side in the league. We showed the infamous "mental strength", and astonishingly conceded the 2nd fewest goals in the league, behind Manchester City. We lost 7 games this season, while United lost 5, City 6 and Chelsea 7. What killed us was the amount of draws we had. Manchester United may have won the title at a canter but we are not a million miles away.
And I think Arsene knows it. He is the master of analysing statistics and figures and will know that our defensive is something to build on. For the last 7 seasons, we have been that man who has been saving and saving waiting to buy that car he's always wanted – and there comes a time where Arsenal need to spent that money. I'm not saying waste it on a overrated Brazilian who costs £60 million, but we should have the resources and scouting network to identify which players would really strengthen our squad.
We need to stop buying players like Gervinho, Denilson, Bendtner, Arshavin and Santos who are no where near good enough. We need to get rid of the deadwood and actually recruit quality players.
If nothing else, Arsenal have to invest in the squad soon to reward all of the loyal fans who have been watching their team for all of those barren seasons. Having a go at fighting for the title is the least we deserve.
But we need to ensure our very poor early season form is a thing of the past. In the last 2 seasons, we have finished extremely strongly but we need to maintain that consistency over 38 games. The old cliche is you can't win the league in October/November but it can certainly be lost. We need to start the season well, put pressure on the teams around us and a great start would get the players to start believing that we are genuine contenders.
So what have been your positives and negatives of the season?